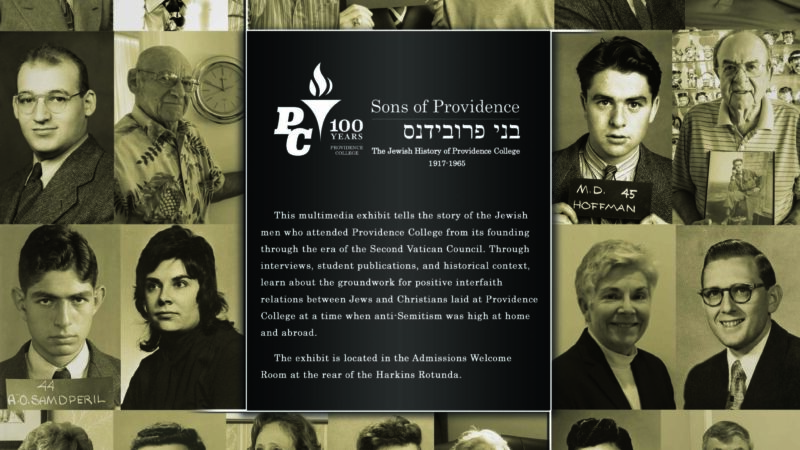 Join the Museum of Work & Culture, a division of the Rhode Island Historical Society, on Thursday, June 8 at 6:30pm for an in-person screening of Sons of Providence: The Jewish History of Providence College, 1917-1965, a documentary about how Providence College became a welcoming haven for Jewish students during the first half of the 20th-century. 
The documentary features interviews with Jewish alumni, Providence College faculty, and experts placing their stories within the context of the larger historical and religious issues of the era, culminating with the Second Vatican Council in 1965 when the Catholic Church radically redefined its relationship with the Jewish people in the wake of WWII.
Following the screening, the museum's Exhibit & Program Coordinator Deborah Krieger will engage in a hybrid discussion about the making of Sons of Providence with Arthur P. Urbano, Professor of Theology at Providence College and Jennifer Illuzzi, associate Professor of History at Providence College.
Attendance is free, but registration is required. Guests may register by emailing dkrieger@rihs.org.
This program is presented as part of a series inspired by the Museum's current temporary exhibit Mishpakha: Jewish History of Woonsocket.
Urbano is a Professor of Theology at Providence College. He teaches courses on the Bible, the early Church, and Jewish-Christian Relations. He is the chair of the Jewish-Catholic Theological Exchange Committee at Providence College, which organizes lectures, dialogues, and seminars on interfaith issues; and co-chairs the Rhode Island Catholic-Jewish Dialogue Group with Rabbi Wayne Franklin. He is the author of The Philosophical Life: Biography and the Crafting of Intellectual Identity in Late Antiquity (2013). He is currently working on a book on the role of garments and appearance in the philosophical and theological debates of antiquity.
Illuzzi is an associate Professor of History at Providence College.  She focuses on the intersections between institutional history and diasporic populations, particularly the Romani population in Europe. She studies modern German and Italian history, focusing on social and political history, and particularly gender history, in the late 19th and early 20th centuries.  Her publications include "Stories of a Life Together" in Erreffe 74 (2019), "Reimagining Colony and Metropole:  Images of Italy and Libya during the Italo-Turkish War, 1911-1912" in Gender and History 30 (2018), and Gypsies in Germany and Italy, 1861-1914:  Lives Outside the Law (2014).