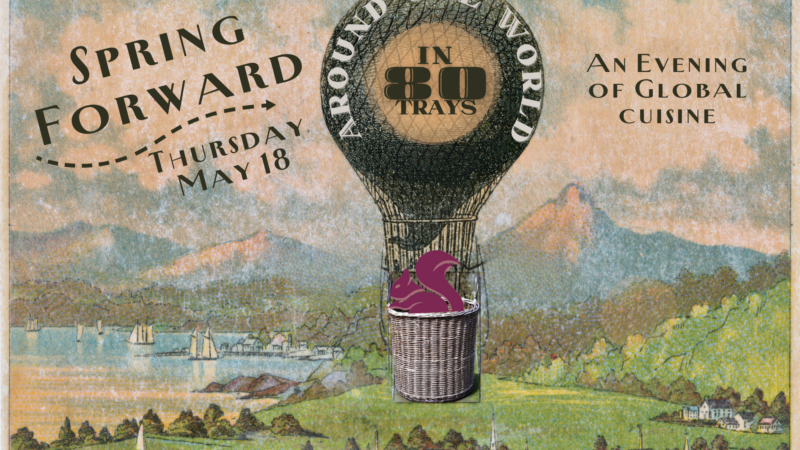 Join us on Thursday, May 18, for Spring Forward: Around the World in 80 Trays at the historic Aldrich House in Providence.
Inspired by this year's annual theme, "Rhode Island and the World," Around the World in 80 Trays will highlight our state's global food culture and the many communities who call Rhode Island home.
The evening will kick off at 5:30 p.m., with a VIP Reception featuring an amazing selection of wines and beers from around the world provided by Bottles Fine Wine, as well as international cheese and charcuterie from Edgewood Cheese Shop. Experts will offer insights into the selections, as well as the most appropriate pairings. Guests will also have the opportunity to view maritime paintings and maps from the RIHS collections and discuss the pieces with Deputy Executive Director for Collections & Interpretation Richard Ring.
At 6:30 p.m., the main event will begin featuring food and drink from over two dozen area restaurants. Guests will be able to sample fare from Central and South America, the Caribbean, West Africa, the Middle East, Central and South Asia, Southeast Asia, and Europe. Entertainment will be provided by jazz trio Trois Gras. The evening will conclude with a selection of international pastries, teas, and coffees.
VIP tickets are $125 and event tickets are $50 for RIHS members and $75 for nonmembers. They are available for purchase here.
Spring Forward: Around the World in 80 Trays is supported by presenting sponsor Amica Insurance and is also made possible by Mr. & Dr. Barry & Kathleen Hittner, Pranzi Catering & Events, Bank of America, and Bottles Fine Wine.
Our Event Sponsors

Amica Insurance
Mr. & Dr. Barry and Kathleen Hittner

Bank of America
Esten & Richard Insurance
University of Rhode Island College of Arts & Sciences
The Stanley Weiss Collection