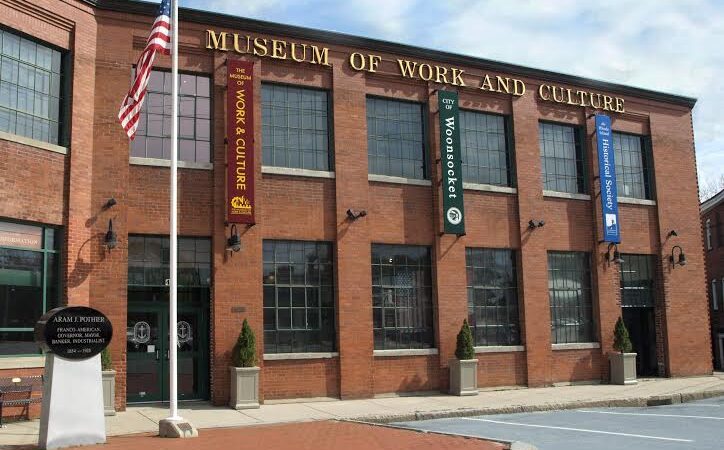 Valley Talks, a series of biweekly historical lectures by the Museum of Work & Culture, a division of the Rhode Island Historical Society, begin Sunday, January 8 at 1:30pm on Zoom. 
The series will kick off with Worldly Rhode Island, a talk by Rhode Island Historical Society Executive Director C. Morgan Grefe, Ph.D.
As the nineteenth century rolled into the twentieth, Rhode Island's industrial production per capita was second to none. The goods made here traveled around the world. And, in fact, they were often made by people who came to these shores from the farthest reaches of the globe.  This talk will kick off the RIHS's annual theme of Rhode Island and The World as we begin to explore how Rhode Island has been shaped by and how it has, in turn, shaped the wider world.
Individuals can register for the talk by visiting: https://bit.ly/3v9GC8F
Grefe is the Executive Director of the Rhode Island Historical Society, a position she has held since 2011. Prior to this, she served as the Director of the Newell D. Goff Center for Education and Public Programs at the Society beginning in 2005.  She holds a B.A. and an M.A. in American Civilization from the University of Pennsylvania; and earned a Ph.D. in American Civilization from Brown University in 2005. Her work as a historian focuses on U.S. social, cultural and architectural history, with special attention on carceral history, public history, and Rhode Island. She makes her home in Pawtucket with her spouse, artist Gage Prentiss, and their three exceptional cats.
Other Valley Talks will include:
January 22: International House of Rhode Island Executive Director Alex Holt and Vartan Gregorian Assistant Professor of Education at Brown University Andrea Flores will discuss how visa stipulations impact the life trajectories and decisions of international PhD students and international postdocs.
February 5: Woonsocket icon, restaurant proprietor, and jazz aficionado John Chan will share his family's history, including how they came to call Woonsocket home and the personal passion that shaped the legendary Chan's Eggrolls and Jazz.
February 19: Historian George Goodwin will discuss Woonsocket's B'nai Israel synagogue, designed by internationally renowned synagogue architect Samuel Glazer, and its importance to Rhode Island's Jewish community.
March 5: Writer Melody Desjardins will examine the relationship between French-Canadian folklore and current day Franco-Americans in search of a deeper connection between the two.