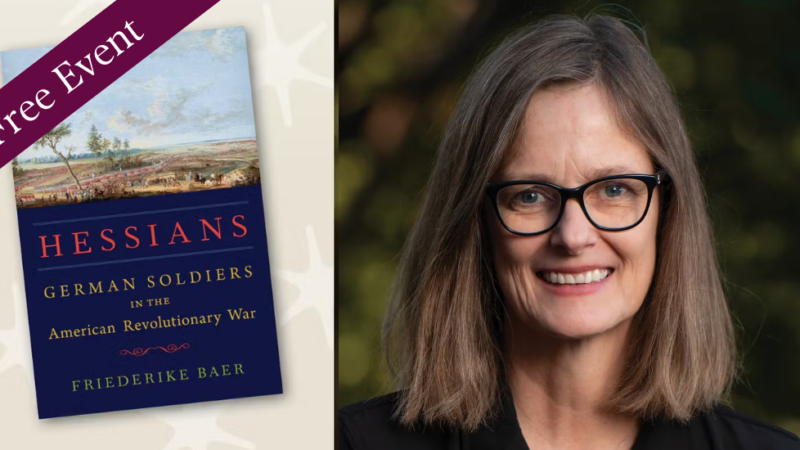 The Rhode Island Historical Society and the Battle of Rhode Island Association will welcome Dr. Friederike Baer on Wednesday, December 6th at 6pm for her talk, "I cannot call it a Conquest – the Rebels ran away like Villains": German Soldiers in Rhode Island, 1776 to 1779.
The British occupation of Rhode Island from 1776 to 1779 included more than 3,000 soldiers and civilians belonging to the corps from Hessen-Kassel and Ansbach-Bayreuth, two of the six German territories that supplied troops to Britain in its war against the American rebels. During this time, they dealt with persistent harassment by the Americans, and, in August 1778, they participated in the Battle of Rhode Island. The presentation will examine the land, the people, and the Revolutionary War in Rhode Island from the perspective of these German troops.
This talk is free and will be hosted at the RIHS Aldrich House headquarters in Providence. 
Guests can register here.
Friederike Baer is an Associate Professor of History at Pennsylvania State University, Abington College. She holds a Ph.D. in early American history from Brown University. Much of her research has focused on the experiences of German-speaking people in North America in the periods of the War for American Independence and Early Republic. Her work has been supported with research grants from organizations such as the American Philosophical Society, Library Company of Philadelphia, University of Michigan Clements Library, and German Academic Exchange Service (DAAD). For her most recent book, Hessians: German Soldiers in the American Revolutionary War (2022), she was awarded the 2023 Society of the Cincinnati Prize.