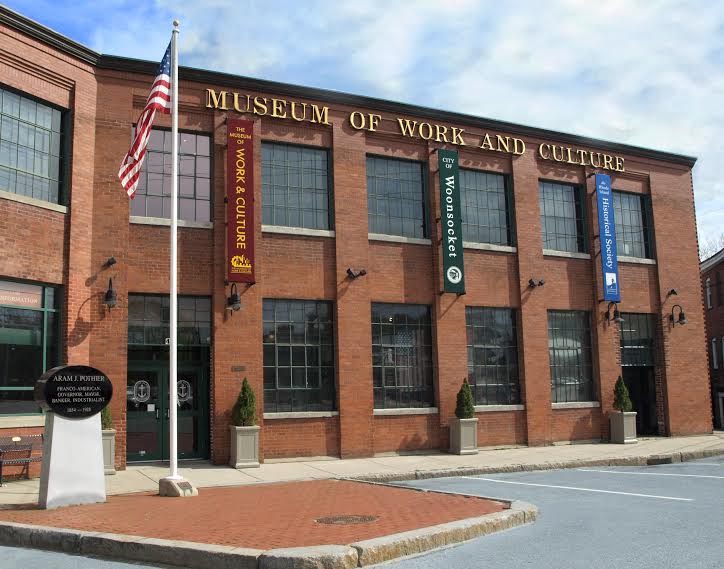 ABOUT THE MUSEUM
The Museum of Work & Culture presents the compelling story of immigrants who came to find a better life in the mill towns along the Blackstone River. Visitors recreate this journey, beginning in a Quebecois farmhouse before making their way to the workday world of Woonsocket at the turn of the century. Guests explore the lives of immigrants at home, work, and school through nine immersive exhibits.
IN OUR CHANGING GALLERY
Mishpakha: Jewish History of Woonsocket, an original exhibition celebrating local narratives of worship, entrepreneurship, and social life in Woonsocket's Jewish community, will be on display in the museum's changing gallery until Saturday, September 30.
Beginning in the 1860s with the arrival of Woonsocket's first recorded Jewish resident, the city became a hub for Jewish immigrants in Northern Rhode Island. At its peak, Woonsocket boasted a thriving Jewish population of over 200 families–a tight-knit group that was a crucial thread in the fabric of the bustling textile city.
Mishpakha: Jewish History of Woonsocket provides visitors of all ages opportunities to learn about Jewish culture and traditions. Guests will be invited to ask questions, enjoy a diverse range of Jewish children's books, participate in Jewish arts and crafts, and respond via words and images to thought-provoking prompts, all while discovering the rich history of this vital community.
SCHOOL TOURS & EDUCATIONAL PROGRAMS
The Museum offers free virtual tours for educational groups, including schools, homeschool families, and distance learners. Please see our School Tours page for details about our free virtual tours and educational programs. You can contact us directly with any questions at mowc@rihs.org
ONLINE GIFT SHOP
Our gift shop items are now available online by visiting shopmowc.com. Shop a selection of history books, locally made products, as well as children's books and games. Visit shopmowc.com.
What You'll See & Experience Here
Take a seat in the parlor of a 1930s Triple Decker house and listen to a radio program of the day.

Explore the transformation of this textile city over 200 years on an interactive touch table.

Discover the story of Rhode Island's Merci Boxcar.

Shop a variety of local products, including blankets produced by Woonsocket's last operating textile mill.

Discover the history of the Blackstone River by visiting Flowing Through Time, our new, state-of-the-art interactive exhibit.
Did You Know?
Our exhibits are presented in both French and English.

Many Woonsocket mill baseball teams produced great players, including Hall of Famer Napoleon LaJoie.
1920, 70% of Woonsocket's population was of French and French Canadian descent.
The former Alice Mill on Fairmount Street helped produce the inflatable tanks used by the "ghost army" during World War II.
No upcoming events.
Hours
Monday

Closed

Tuesday

9:30 am - 4:00 pm

Wednesday

9:30 am - 4:00 pm

Thursday

9:30 am - 4:00 pm

Friday

9:30 am - 4:00 pm

Saturday

10:00 am - 4:00 pm

Sunday

Closed
Closed: New Year's Day, Easter, Independence Day, Thanksgiving Day, Christmas Eve, Christmas Day, and New Year's Eve.
Rental Information
The Museum of Work & Culture is a beautifully restored mill in historic Market Square Woonsocket. It is an ideal venue for meetings, receptions, birthday parties, showers, and class or family reunions. Click here for more information.
Tickets
Adults: $10
Seniors (62+), Veterans, and Students: $8
Children under 10: FREE with adult
RIHS Members: FREE
EBT Cardholders:  FREE (up to four individuals per EBT card)
Groups of 10 or more: $8 per person with prior reservation
Location & Directions
Museum of Work & Culture 42 South Main Street Woonsocket, RI 02895
Phone: 401-769-9675
Email: mowc@rihs.org
Parking is located in front of the museum, as well as in the municipal lot across the street.