Mary Elizabeth Robinson Research Center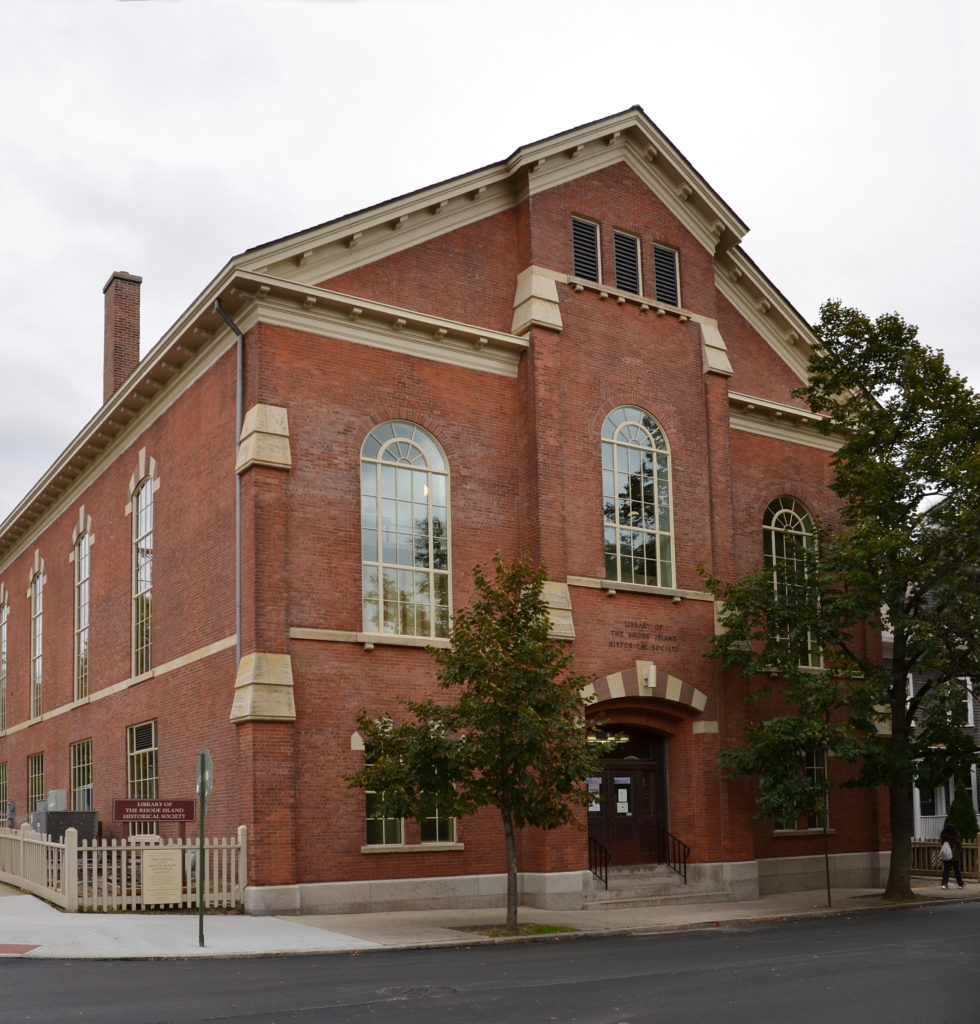 The Robinson Research Center provides public access to the collections of the Rhode Island Historical Society. To search for specific books, manuscripts, paintings, etc., please use our online catalog, the Cabinet, and Master List of Finding Aids. The general scope and content of our holdings are detailed on the Collections page.
The RIHS has created a new structure for our Reference and Research Services. Our goal remains to serve the public as equitably as possible while ensuring the sustainability of the organization.
On-site materials span five centuries and include archival and manuscript collections, printed books and pamphlets, photographs, newspapers, prints, architectural drawings, ephemera, maps, broadsides, moving picture film, and sound recordings. All non-print materials required advanced notice of at least one (1) week and are subject to availability.
Off-site materials include textiles, paintings, tools, ceramics, furniture, other objects, and some manuscript materials. All off-site materials require advance notice of at least ten (10) business days to consult.
Additional information and policies about visiting the RRC can be found here.
Please direct research inquiries and appointment requests to reference@rihs.org or 401-273-8107 x410
What You'll See & Experience Here
A friendly, welcoming team
Every Rhode Island newspaper on microfilm going back to 1732!
Hundreds of town directories
Thousands of family histories
Card catalogs, as well as computers!
Did You Know?
Built in 1874 as the Hope Street Methodist Episcopal Church, the Providence Public Library purchased the building that now houses the RRC in 1927; they renovated it to serve as the Tockwotton branch of the public library. The RIHS purchased it from PPL in 1961.
Hours
Monday

Closed

Tuesday

Closed

Wednesday

1:00 pm - 7:00 pm
Manuscript Appointments: 1-4pm & 5-7pm

Thursday

10:00 am - 4:00 pm
Closed for lunch 12-1pm // Manuscript Appointments: 10am-12pm & 1-4pm

Friday

10:00 am - 4:00 pm
Closed for lunch 12-1pm // Manuscript Appointments: 10am-12pm & 1-4pm

Saturday

10:00 am - 1:00 pm
Second Saturday of the Month Only & Reading Room Materials Only

Sunday

Closed
Tickets
The Research Center is currently not charging for research appointments or walk-in hours.
Location & Directions
To enter the library when you visit, please ring the buzzer to the left of the front entrance doors. Once inside, proceed to the sign-in desk, which is just inside the double glass doors across the entrance lobby.
Mary Elizabeth Robinson Research Center 121 Hope Street Providence, RI 02906
Phone: 401.273.8107
Email: reference@rihs.org
An accessible entrance is available via a paved pathway to the right of the front entrance stairs, through a gate in the picket fence surrounding the library. Please ring the bell to the left of the rear door for entrance to the Reading Room.